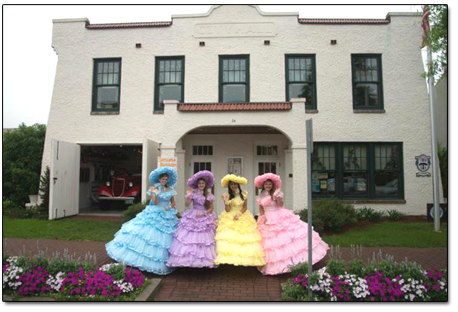 The Friends of the Fairhope Museum has produced this 'Round Up Day' play for four years. It coincides with Fairhope's Founders Day. They used this play to tell the story of the founding of Fairhope in an entertaining and engaging way. Originally performed in the Fairhiope History Museum, it moved to the Colony cemetery after two years and expanded to include the first ten years of Fairhope's history, since many graves were not actual original, first day founders. These were people who came in the very first few years that contributed greatly to growing and improving the new Single Tax Colony, and are included in the story.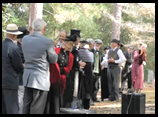 Click here to check out the behind the scenes video

---
Fairhope's Founding
Ernest B. Gaston and his band of Populist supporters landed on the Eastern shore of Mobile Bay at their designated meeting time they called "Roundup Day," November 15, 1894. Coming from Eastern Pennsylvania and all the way from Los Angles California, they met at their "Camp Fairhope" at Battles Wharf, AL to plan their Utopian community. This was a plan to "put good principles to work, and good theories into practice." This "model community" was deemed to only have a fair hope of succeeding, but was founded by the first 28 people with a strong determination to see it happen.
Of the first 28 founders that arrived on Roundup Day, the Gaston, Tuveson, Mershon, and Hunnell families remained to forge the new town. The Smith, Pollay and Dellgren families found that rough terrain and lack of necessities made life hard, and they left the new town. But, within a few months, boatloads of single-tax'ers arrived and the town grew quickly.
Fairhope was founded by socialists who were members of the Populists party on November 15, 1894. They tried to get General Weaver elected president in 1892. When Grover Cleveland was instead elected, they said "lets produce a model community" that will demonstrate their values and beliefs. After efforts failed in St. Charles parish, Louisiana, they adopted part of the old Henry George single tax doctrine which they hoped would at least give them a 'fair hope' of establishing a demonstrative colony. Hence was born the Fairhope Industrial Association.
By 1904, Fairhope was ten years old. The founders were feeling a sense of pride because their social experiment was now a demonstration. Ernest Gaston used phrases such as "we will make good work, AND WE ARE DOING IT!"
Because their experimental colony was not a purely Henry George colony, many people attracted to join the Utopian community did not agree with the new town's philosophy. During the play the voices of these "Kickers," as they were called, are heard several times.
Trouble was brewing in Utopia.